Grawemeyer Spirit Award Sculpture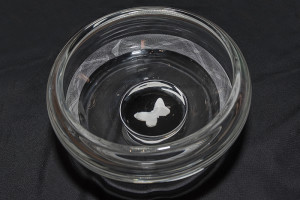 Glass award sculpture created by Ché Rhodes, associate professor and head of studio glass for the University of Louisville Hite Art Institute
Presented to Mr. Ali on September 17, 2015
From the artist:
First, we chose to make the bowl form primarily for its symbolic value. The bowl represents the sharing of sustenance and food. It is intended to function as a metaphor for giving and thriving.
The extra-ordinary thickness and weight of the bowl are meant to be appropriate for Muhammad Ali's tremendous strength—both physical and of character—and stature.
It is decorated with a single band comprised of 73 twisted white and black lines. The inner 18 lines are black and represent the first 18 years of his life—up to the point where he earned the Olympic gold medal. This is the point where he became a champion and it is also when he announced that he had thrown the medal into the Ohio River. At this moment, he is transformed into not only an athletic champion, but also a champion of humanitarian, social and political causes. In contrast, the outer 55 lines are white and encircle the black lines. These represent the remaining years of his life, up through today, as an advocate and warrior for human rights, dignity, and freedom.
When the bowl is in its upright position, it is able to perform its function as a vehicle for nourishment and giving. The butterfly is visible in this position, which is intended to convey the idea of peacefulness and compassion. Not visible in this position is a bee, on the bottom of the bowl, which expresses the idea of forcefulness. In order for the bee to be visible, the bowl must be inverted, thus denying its function. Though forcefulness is not necessarily or always negative, the idea of inverting the bowl to reveal either creature represents the freedom to make the choice between peacefulness and forcefulness. No other person possesses these two qualities to the extent that Mr. Ali does. Moreover, no one has ever evidenced as much wisdom and thoughtfulness about choosing the appropriate time and manner in which to use peacefulness and forcefulness than Muhammad Ali.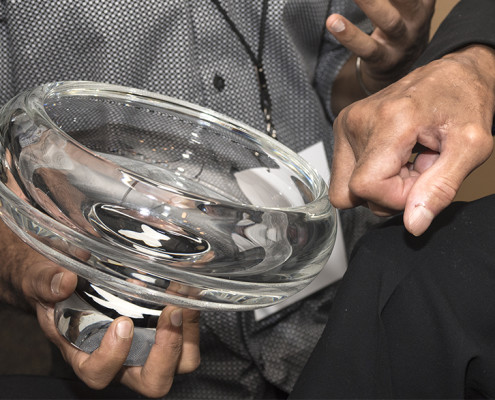 Ché Rhodes, associate professor and head of studio glass for the University of Louisville Hite Art Institute discussing the symbolism of the award with Muhammad Ali