New evidence and political history offers a fresh look at the 1955 murder of Emmett Till.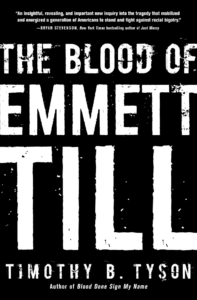 The 1955 lynching in Mississippi of a fourteen-year-old African American boy from Chicago named Emmett Till, came in the wake of the 1954 Supreme Court decision that declared public school segregation unconstitutional. The men accused of the lynching were found not guilty (acquitted by an all-white, all-male jury). A little more than 60 years after his murder, Till's name is still invoked among the many others who have fallen victim to racial injustice.
This week, past Grawemeyer Religion Award winner, Timothy B. Tyson, released his new book, The Blood of Emmett Till (Simon & Schuster). Tyson's book draws on new evidence as well as insight from Carolyn Bryant Donham, the white woman in whose name Till was killed. In Tyson's book, Donham reveals that her allegations that Till grabbed her and was menacing and sexually crude toward her were not true. Donham, who has remained largely silent on the matter for the past 60 years, said, "Nothing that boy did could ever justify what happened to him."
Tyson won the 2007 Grawemeyer Religion Award for his book, Blood Done Sign My Name (Penguin Random House), which addresses the racial tensions in early 1970s Oxford, North Carolina. In an interview on CBS This Morning, which aired January 31, 2017, Tyson said that Donham's daughter-in-law read Blood Done Sign My Name and gave that book to Donham for her to read as well. Tyson was then contacted by Donham's daughter-in-law informing him that Donham wanted to discuss the Till case with him.
Louisville Presbyterian Theological Seminary, in partnership with the University of Louisville, presents the Grawemeyer Religion Award every year. The award recognizes ways in which the relationship between humanity and the divine may inspire or empower human beings to attain wholeness, integrity, or meaning, either individually or in community. According to Louisville Seminary President Michael Jinkins, The Blood of Emmett Till represents a body of work by Tyson that reflects the spirit of the award.
"Tim Tyson has again rendered an extraordinary service to humanity, bringing to light a hidden chapter in our history," said Jinkins. "He has proven himself to be a writer and researcher of integrity, dedicated to truth-telling and justice. I am especially proud that he is a recipient of the Grawemeyer Award in Religion."
This year's Grawemeyer Religion Award winner, Gary Dorrien, offers his insights on the civil rights movement and spirituality in his book, The New Abolition: W. E. B. Du Bois and the Black Social Gospel (Yale University Press). In his book, Dorrien, a renowned social ethicist, describes the early history of the Black Social Gospel from its nineteenth-century founding to its close association in the twentieth century with W. E. B. Du Bois. He offers a new perspective on modern Christianity and the civil rights era by delineating the tradition of social justice theology and activism that led to Martin Luther King, Jr.
Dorrien's Grawemeyer lecture, "Breaking White Supremacy: The Black Social Gospel as New Abolitionism," will take place Tuesday, April 18, 2017, at 7 p.m., in Caldwell Chapel at Louisville Seminary (1044 Alta Vista Road, Louisville, Ky. 40205). The public is invited to attend.
http://grawemeyer.org/wp-content/uploads/2016/12/grawemeyer-medal-square.jpg
399
400
Kim Butterweck
http://grawemeyer.org/wp-content/uploads/2016/03/grawemeyer-black.png
Kim Butterweck
2017-02-01 09:18:56
2017-02-02 09:14:37
Past Grawemeyer Religion Award winner Tim Tyson releases new book